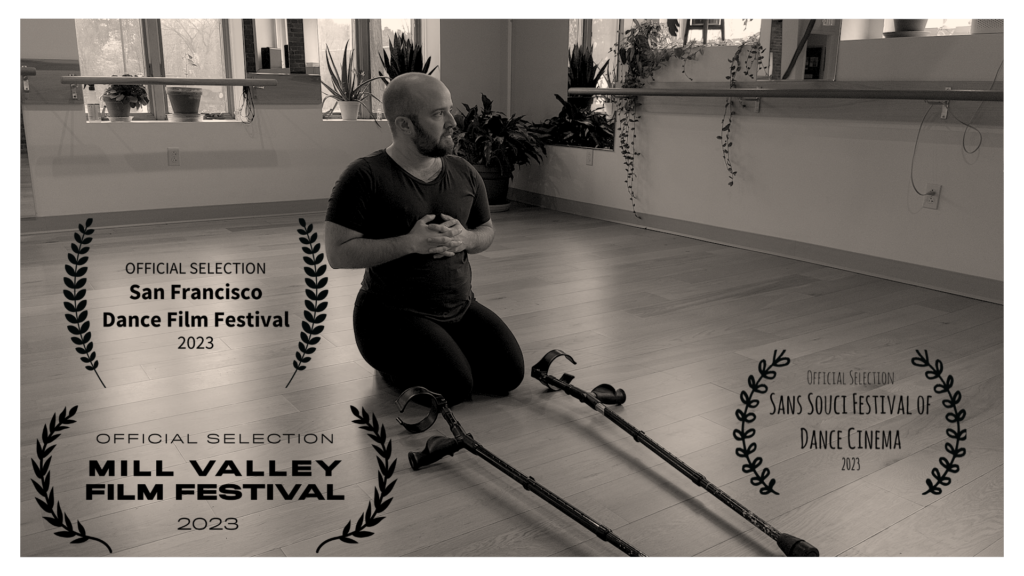 ---
Shown across the country including New York University, Carrollwood Cultural Center, Mill Valley Film Festival, Carnegie Mellon University, New Museum Los Gatos, Rutgers University, and more!
---
---
Telephone… "is such a bouquet of emotions happening all at once. A piece of art that gives you so much in each moment, you simply want to burst out of your seat as an audience member. So many parallels going on to complement each other, this is truly a magical and fun movie of dance…"
– Natalie Schultz-Kahwaty, PhD, Director of the Rutgers Dance for Parkinson's and Neuromuscular Conditions, Assistant Director of the Integrated Dance Collaboratory (IDC) at Rutgers University
---
The first of its kind, Telephone is a documentary screendance film bringing awareness to the important art form of audio description (AD) for dance. Audio description allows blind and visually impaired people to be included fully in the joy of artistic expression.

Co-directed by Dark Room Ballet founder Krishna Washburn and choreographer/filmmaker Heather Shaw, Telephone is the first screendance documentary created specifically with a visually impaired audience in mind, while facilitating an immersive sensory experience for audience members of all sight levels.
Initiated in the early days of the global pandemic in 2020, the film features diverse disabled and non-disabled artists from across the globe, demystifying and legitimizing AD, not just as an access tool, but as a beautiful, rich art form in its own right.

Telephone is at the forefront of a completely new approach to audio description. Most of what is considered "best practice" for AD is meant for television or film. A neutral AD voice describes the visuals and does not express emotional content. In television and film, the performers' voices (layered over the AD) inform the audience of the emotional themes. However, in dance, performers rarely speak. Is the neutral AD voice really the best choice for dance? How do those listening to the AD connect with the emotional content of the performance?

The audio describers of Telephone are reshaping the world's perception of AD, adding emotional context and allowing their words to dance in the same way a dancer's body moves. The result is a beautiful merge of poetry and movement, proving that:
Telephonefilm.com is designed with full accessibility in mind. In the event that you experience any accessibility issues on our site, please reach out to telephone.ad.game@gmail.com.
For trailer credits and an expanded video description, please see here.
For a transcript of the first five minutes of the New York Times audio introduction, please see here (or email us for a PDF version).